We hope you love the products we recommend! FYI -if you click on a product below and decide to buy it, we may earn a small commission.
Many parents-to-be like to keep the gender of their baby a secret until nearer the date of the baby's birth. Naturally, all your friends and relatives will be dying to know whether your baby is a boy or a girl, so why not hold a gender reveal party when you can make the happy announcement?
Here are 20 fabulous ideas that will work really well at your gender reveal party. In our list, we've included some brilliant DIY projects for table settings, games, centerpieces, drinks, and party food that will make your big reveal party a day to remember!
Project #1: DIY Gender Reveal Party Balloon Box Centerpiece
If you're looking for an eye-catching centerpiece for your gender reveal party table, this boy/girl balloon box could be the perfect solution.
Here is an easy DIY project that you can put together relatively cheaply in just a day. Check out our video tutorial and step-by-step instructions to see what's involved.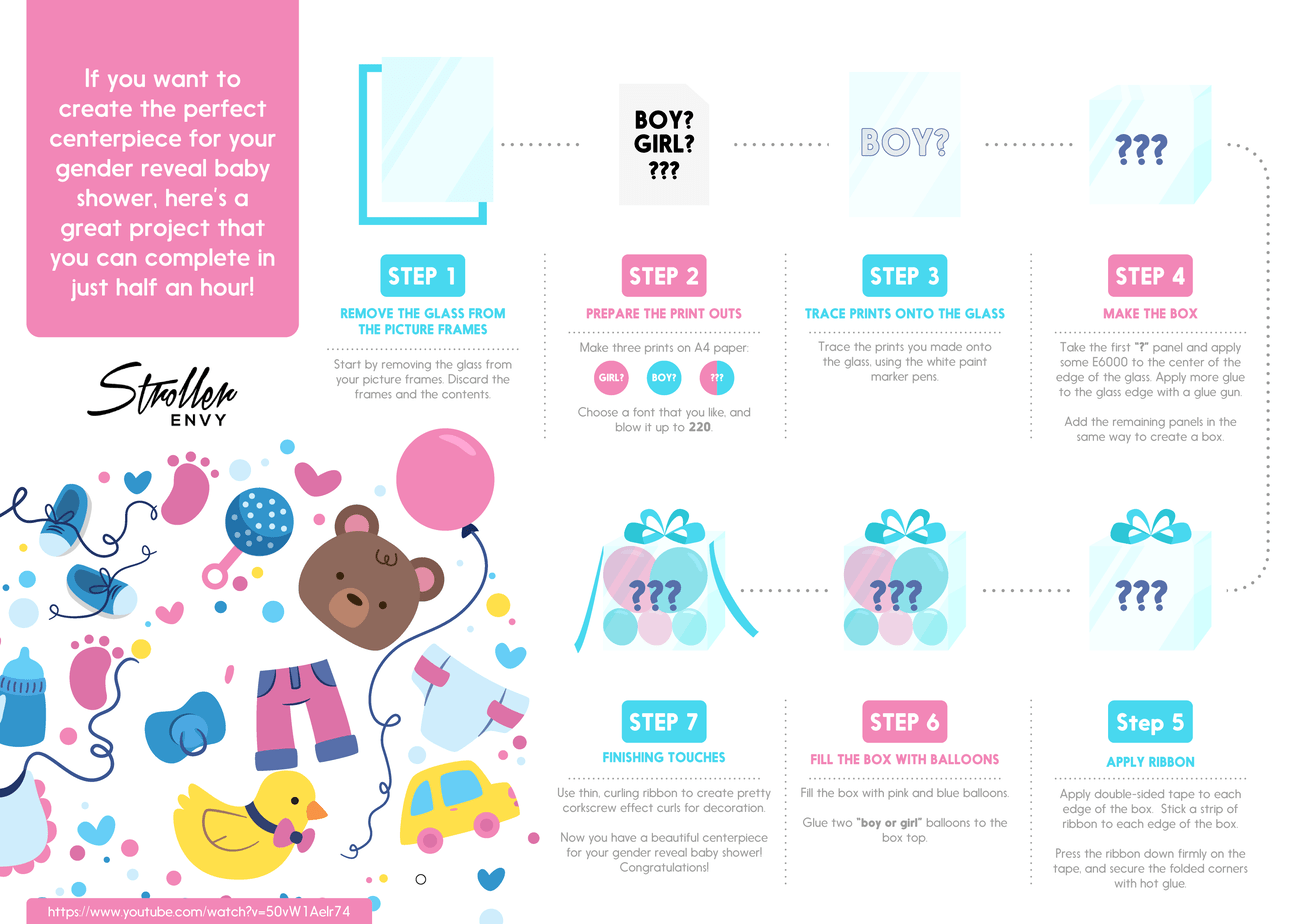 DIY Gender Reveal Centerpiece Tutorial
Project #2: Pink or Blue Party Table
If you want a party table to really draw the eye, check out this pink or blue, DIY centerpiece décor idea.
Best of all, you can assemble this gender reveal table yourself without breaking the bank!
Project #3: Tie or Tutu Gender Reveal Guessing Game
Your gender reveal party guests will love this idea! Ask every guest to choose a tie or tutu, depending on whether they think your baby is going to be a boy or a girl. Pin the tutus and ties to a board and have everyone gather around the "poll" when you're ready to reveal the gender of your baby!
This project is so effective, yet so simple to make, and it makes the perfect focal point for your party guests.
Project #4: Sugar & Spice Cotton Candy
This sugar and spice cotton candy gender reveal party decoration is so easy to put together; a child could do it!
All you'll need are two large vases, some pink and blue cotton candy, your scan photos, and some colored paper and pens. Simple, cost-effective, and oh so sweet!
Project #5: Boy or Girl Selfie Frame
Everyone will want a selfie with the mom-to-be, so why not make some everlasting happy memories by creating this easy selfie frame for your gender reveal party.
When it's finished, hang the selfie frame in front of a blue and pink fabric backdrop topped with a net of pink and blue balloons. Super-cute!
Project #6: Floral Photo Booth
For a beautiful backdrop to your gender reveal party photos, check out this floral photo booth. All you need to create this essential party feature are some white net curtains and some giant pink and blue flowers. You can buy flowers or make them yourself if you enjoy crafting.
Project #7: Wear Your Guess
People love to try to guess the gender of your baby! And this simple wear your guess idea is so easy to create, it's perfect for a last minute addition to your gender reveal party games.
All you need for this project are some wooden pegs, pink and blue paint, two bowls, and a photo frame. Each guest picks a pink or blue peg to wear with pride, depending on what sex they think your baby will be.
Project #8: Sign Here to Register Your Guess!
This project is a brilliant way of incorporating a gender reveal party game and a guest book all in one!
You'll need a picture frame, your baby scan picture, and some pink and blue marker pens. Your guests sign their name in pink or blue, depending on the gender they think the baby will be.
Project #9: Confetti and Balloon Shower
If you're holding your gender reveal party in the summertime and you have a suitable outside area, this confetti and balloon shower reveal will make a wonderful photo opportunity for you and your partner!
You'll need a large cardboard box, pink, blue, and gold paint, ribbon, confetti and balloons of the appropriate color; pink for a girl or blue for a boy. When you've built up the suspense, assemble all your guests outside and pull the ribbons on the box to release the confetti and balloons to reveal the gender of your baby!
Project #10: Rice Krispy Boy/Girl Cakes
If you like baking, you'll love this simple idea for gender reveal boy/girl Rice Krispy cakes. You can bake the cakes yourself or buy them readymade. Dip an equal number of cakes in pale pink and pale blue icing, allow the icing to dry, and then decorate with white icing drizzle. Yummy!
Project #11: Pink or Blue – Which Drink?
Attending a gender reveal party is thirsty work, and these two non-alcoholic pink and blue drinks are the perfect way to refresh your guests!
Buy or hire two large drink dispenser Mason jars and fill them with "pretty in pink lemonade" and "bouncing boy blueberry refresher." Perfect for a gender reveal celebration on a warm summer's day!
Project #12: Surprise Gender Reveal Shower Cake
This surprise gender reveal shower cake makes the perfect centerpiece for your party food table. Cut the cake at the end of the party to spill out a cascade of sugar balls that reveal the gender of your baby!
You can make your own four-layer cake if you want to or buy it readymade if you prefer. Of course, you will need to know what sex your baby is when you order the cake so that the filling is the appropriate color!
Project #13: Boy or Girl Baby Biscuits
If you're planning on presenting your guests with a spread of party food at your gender reveal celebration, these super-cute, baby biscuits make a lovely addition to any table.
You can make the biscuits by choosing plain, readymade shortbread ovals and dipping each piece in pink or blue icing. Alternatively, you might prefer to bake the biscuits yourself. Either way, you can be sure that the plate will be empty by the end of the party!
Project #14: Carnation Table Decorations
If you're planning a gender reveal party, you may be looking for inspiration for some table decorations. All you need for this pretty, simple table garnish are some blue-tinted Mason jars and some sprays of pale pink carnations.
For maximum effect, arrange the jars along one long table or set one on each smaller table where your guests will be seated.
Project #15: 'Staches or Lashes?
For a fun gender reveal party idea, you might like to try this 'staches or lashes novelty game! You'll need an equal number of stick-on mustaches and pairs of specs adorned with huge pink eyelashes. Every guest chooses a 'stache or lashes, depending on what sex they think your baby will be.
You'll find everything you need for this fun idea on Amazon.com or in your local novelty store.
Project #16: Mason Jar Cutlery Holders
To add a little panache to your buffet table, why not make these simple, DIY cutlery holders? All you need are a few Mason jars, some pink and blue plastic cutlery sets, pink and blue paint and some string or ribbon.
Set aside an afternoon to paint the jars and allow them to dry. Tie some pink or blue ribbon or string around the jars and add cutlery of each color.
Project #17: Name Suggestion Game
This gender reveal party idea is a great way of including your friends and family in your quest to find the perfect name for your baby. Those who think your baby will be a girl choose pink Post-It Notes on which to write their name suggestions, while everyone who is convinced you're expecting a boy uses a blue Post-it Note.
Ask all your guests to include their own name on their note too, so that you can make a guest book keepsake after the party.
Project #18: Pacifier Hunt
Party games are a perfect way to break the ice at a gender reveal celebration, especially if you have invited some guests who don't know each other. A pacifier hunt game is straightforward to organize and is also great fun!
You'll need 24 pacifiers in a mix of blue and pink, a blackboard, chalk, and a room full of keen hunters! Don't forget to buy a nice prize for the winner!
Project #19: Paint Bomb Gender Reveal
For a fun and a rather messy gender reveal idea, you might want to consider a paint bomb reveal.
All you need is two squeezy bottles full of pink or blue paint, and two blindfolds; one for Mom and one for Dad. Make sure you're wearing something old that you're happy to consign to the garbage once the sex of your baby has been revealed!
Project #20: Pop The Belly
If you have access to an outside space and you want your gender reveal party to go with a bang, you might want to try a 'pop the belly' board!
You'll need a large board decorated with cut-out Mommy figures, some black balloons, and a can of pink or blue paint. Put a little of the appropriate color paint into one of the balloons and blow up each balloon to the same size. Pin all the balloons to the board. Now, ask each of your guests to pop a balloon to reveal what sex your baby is going to be!
Wrapping it up
We hope you've had fun checking out our ideas for your gender reveal party! We reckon there's plenty of inspiration here for you to work with, whether you have a large or small budget.
Have a great time!